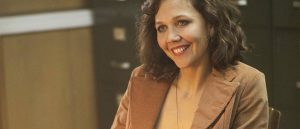 A lista de indicados ao Independent Spirit Awards destacou a atriz Maggie Gyllenhaal, irmã de Jake Gyllenhaal, em sua estreia como diretora e roteirista pelo filme "The Lost Daughter". Na categoria de melhor direção ela disputa com Janicza Bravo ("Zola"), Lauren Hadaway ("The Novice"), Mike Mills ("C'mon C'mon") e Ninja Thyberg ("Pleasure"). Em roteiro os filmes que concorrem com a obra da Netflix são "C'mon C'mon" (Mike Mills), "Swan Song" (Todd Stephens), "Together Together" (Nikole Beckwith) e "Zola" (Janicza Bravo, Jeremy O. Harris).
Confira todos os indicados:
BEST FEATURE
A Chiara
C'mon C'mon
The Lost Daughter
The Novice
Zola
BEST DIRECTOR
Janicza Bravo, Zola
Maggie Gyllenhaal, The Lost Daughter
Lauren Hadaway, The Novice
Mike Mills, C'mon C'mon
Ninja Thyberg, Pleasure
BEST ACTRESS
Isabelle Fuhrman, The Novice
Brittany S. Hall, Test Pattern
Patti Harrison, Together Together
Taylour Paige, Zola
Kali Reis, Catch the Fair One
BEST ACTOR
Clifton Collins Jr., Jockey
Frankie Faison, The Killing of Kenneth Chamberlain
Michael Greyeyes, Wild Indian
Udo Kier, Swan Song
Simon Rex, Red Rocket
BEST SUPPORTING ACTRESS
Jessie Buckley, The Lost Daughter
Amy Forsyth, The Novice
Ruth Negga, Passing
Revika Anne Reustle, Pleasure
Suzanna Son, Red Rocket
BEST SUPPORTING ACTOR
Colman Domingo, Zola
Meeko Gattuso, Queen of Glory
Troy Kotsur, CODA
Will Patton, Sweet Thing
Chaske Spencer, Wild Indian
BEST SCREENPLAY
C'mon C'mon, Mike Mills
The Lost Daughter, Maggie Gyllenhaal
Swan Song, Todd Stephens
Together Together, Nikole Beckwith
Zola, Janicza Bravo, Jeremy O. Harris
BEST CINEMATOGRAPHY
Ante Cheng, Matthew Chuang, Blue Bayou
Lol Crawley, The Humans
Tim Curtin, A Chiara
Edu Grau, Passing
Ari Wegner, Zola
BEST FILM EDITING
Affonso Gonçalves, A Chiara
Ali Greer, The Nowhere Inn
Lauren Hadaway, Nathan Nugent, The Novice
Joi McMillon, Zola
Enrico Natale, The Killing of Kenneth Chamberlain
BEST DOCUMENTARY FEATURE
Ascension
Flee
In the Same Breath
Procession
Summer of Soul
BEST INTERNATIONAL FEATURE
Compartment No. 6
Drive My Car
Parallel Mothers
Pebbles
Petite Maman
Prayers for the Stolen
BEST FIRST FEATURE
7 Days
Holler
Queen Glory
Test Pattern
Wild Indian
BEST FIRST SCREENPLAY
Lyle Mitchell Corbine, Jr., Wild Indian
Matt Fifer; Story by Sheldon D. Brown, Cicada
Shatara Michelle Ford, Test Pattern
Fran Kranz, Mass
Michael Sarnoski; Story by Vanessa Block, Michael Sarnoski, Pig
ROBERT ALTMAN AWARD
(Given to director, casting director and ensemble cast)
Mass
JOHN CASSAVETES AWARD
(Best feature made for under $500,000)
Cryptozoo
Jockey
Shiva Baby
Sweet Thing
This is Not a War Story
TRUER THAN FICTION AWARD
Angelo Madsen Minax, North By Current
Jessica Beshir, Faya Dayi
Debbie Lum, Try Harder!
SOMEONE TO WATCH
Alex Camilleri, Luzzu
Michael Sarnoski, Pig
Gillian Wallace Horvat, I Blame Society
PRODUCERS AWARD
Brad Becker-Parton
Pin-Chun Liu
Lizzie Shapiro